Welcome to the new CCUP.org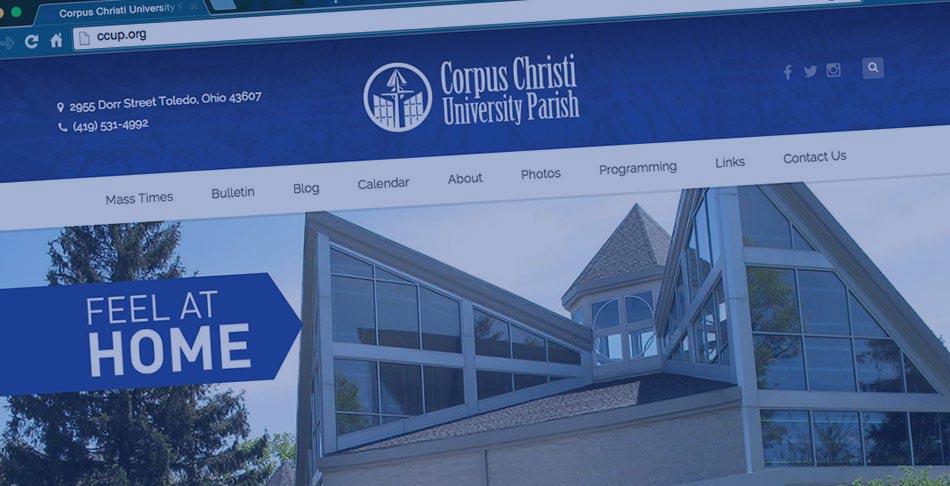 Thank you for visiting the brand new website for Corpus Christi University Parish. I hope you enjoy your visit here and will return often.
When I was contacted by Monsignor Michael Billian at the beginning of summer, I didn't quite know the amount of work I'd have ahead of me. But I was excited about the challenge.
Monsignor Michael wanted to improve the digital footprint of the parish with a new website and social media channels.
With my background in web development, social media and design, I was happy to help. As an active churchgoer at Corpus Christi, I believe in the cause and saw room for growth and improvement.
Building upon the parish's old website platform was not going to work so we decided to move to WordPress, the world's most popular content management system. Some of the biggest users of WordPress include The New Yorker and Best Buy.
With this new platform, you'll find some exciting new features on the parish website. One of those features is something you are currently reading: blogging functionality.
Different members of the parish staff will be sharing news and information with you from this feature and we'll make sure to share those updates on our three new social media channels: Facebook, Instagram and Twitter.
Another exciting feature launching soon will be weekly homilies. If you missed the 11 a.m. Sunday homily, want to listen to it again or share it with a friend, you'll now be a click away from doing so.
With the new site, you will still find up-to-date mass times, a link to download the bulletin and access to the calendar. We've also added photo galleries, including a tour of the church.
Our goal is to make news and information about Corpus Christi more accessible than ever and better connect with parishioners, whether they are students or permanent community members.
If you can't find something, try the search at the top of the screen or go here.
We hope you find this new site enjoyable. If you have any questions, please email me at CCUPsocial@gmail.com or comment below on this post. And if you have any great photos of the parish you'd like to share, please use #CCUPtoledo on social media or send them via email.
Categories:
Uncategorized