Habitat for Humanity Spring Break Trip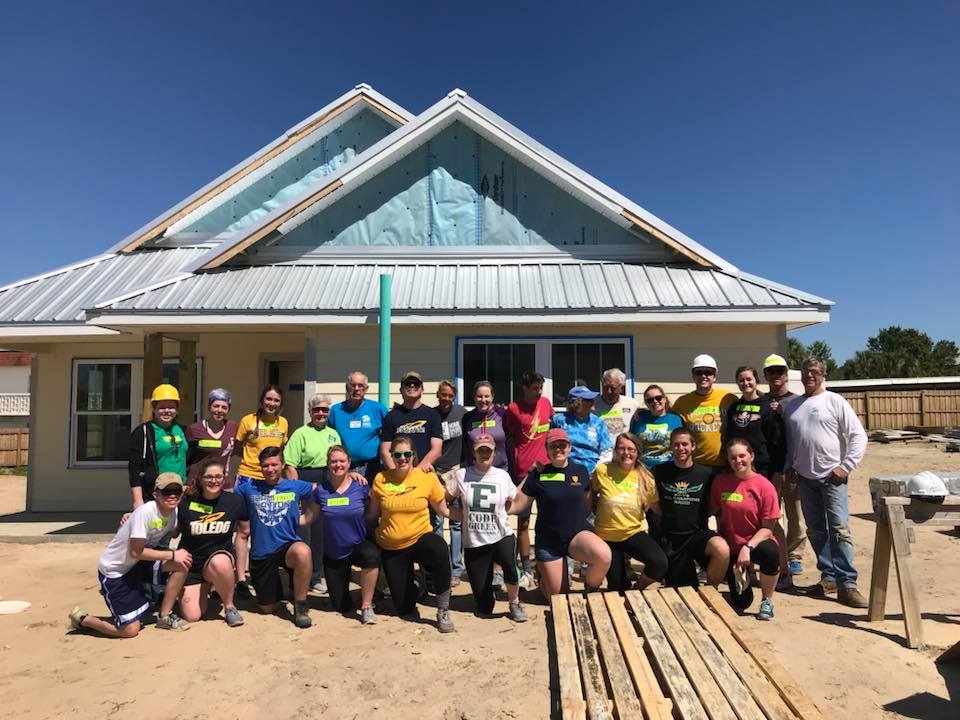 During UT's Spring Break March 3 -10, 2018, nineteen students and Kim Myers, our Campus Minister, traveled to Eustis, Florida to volunteer with Habitat for Humanity.  Instead of having the typical college spring break, our students generously gave of their time and worked on three homes in a new development for veterans.  The development, which is nestled on a beautiful natural lake, gives veterans the opportunity to own property at an affordable rate in a community where they will be living by people of a similar background.
When the CCUP group arrived, each house was in a different stage of completion which provided the students with a variety of opportunities to learn construction and home maintenance skills.  They did everything from siding, painting, caulking, installing F-channel and J-channel, and installing blinds.  They also had the opportunity to work with volunteers from the Habitat RV caravanning group which consists of mostly retired adults who travel around the country doing Habitat builds.  The students formed great bonds with these other volunteers and had a very positive working relationship with them.
In their free time, the students were able to explore a new part of the country.  They traveled to Daytona beach, explored canals in kayaks and paddle boards, relaxed at Orlando theme parks, and swam in a natural spring.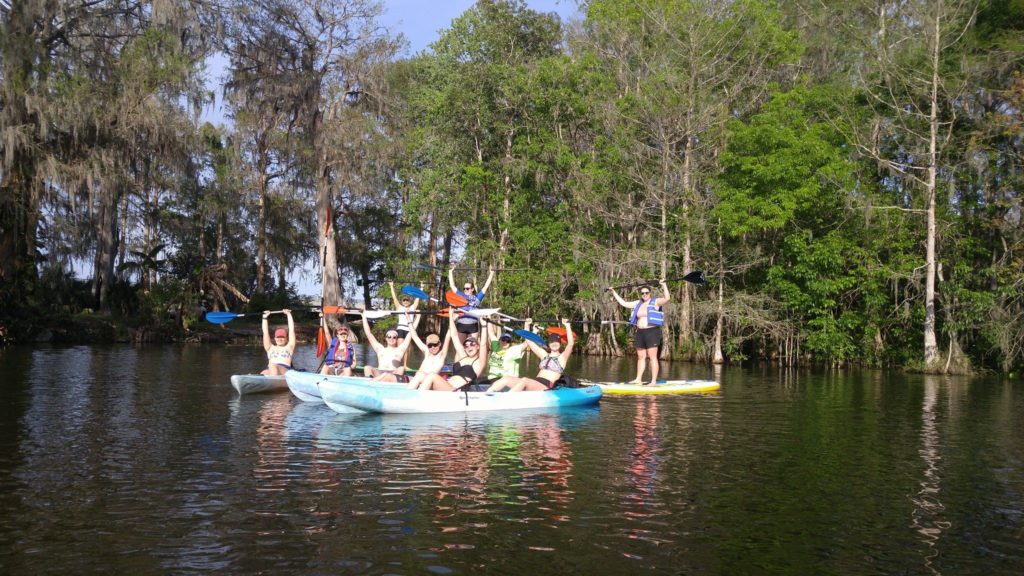 The trip was so impactful on them and they had nothing but positive things to say:
"This trip gave me a whole new level of appreciation for our community and the opportunities we are given here in CSA and on campus. Being able to help those in need and see the impact we are making is one of the most rewarding experiences. Talking with other homeowners and learning about their lives was one of the most gratifying parts of the whole trip. Everyone has different needs and stories to tell, and it was great to meet and talk to a variety of different people."
"My favorite part hands down was working with the older, regular volunteers at the worksite. They were patient and wanted us to learn and be the ones doing the work on the house…You can't beat memories like that."
 "The Habitat for Humanity spring break trip was an exciting opportunity to serve our nation's heroes.  This mission trip was very successful and provided each and every student a chance at learning new skills while making new friends. I will remember not only the new techniques I learned, but I will also keep in mind the purpose of the mission trip: helping those in need!"
A BIG thank you to all who sponsored and prayed for this trip.  And for all future students, please consider joining us next year!
And remember, Habitat is not a hand out but a hand UP!
Categories:
Uncategorized