From Fr. Jeremy: 'A More Perfect Union'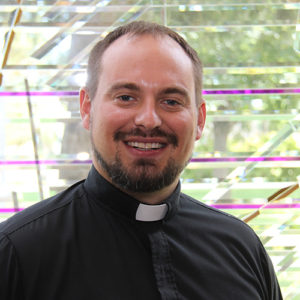 On July 4th, we celebrate the day that the Declaration of Independence was approved. With its vision of inalienable rights given by God, the founders put us on a trajectory that has gradually given more and more people the opportunity for life, liberty, and the pursuit of happiness.
We know that when the Declaration stated that "all men are created
equal," it did not actually apply to all people, especially African-Americans. As Martin Luther King Jr. said, the Declaration was like a "promissory note" that had to be claimed in future generations as the equality it espoused was gradually realized. As recent weeks have shown us, we still have a ways to go in our quest for a "more perfect union."
I've been thinking a lot lately about the notion of original sin as applied to racism in this country. In Catholicism, original sin is the doctrine that though we are created good at the level of our being, our nature is disordered due to the original sin of our first parents. The chasm created by our first parents reverberates down through the centuries as each of us now inherit a proclivity toward disordered desires. However, through baptism and a life of virtue and grace, this nature can be restored even though the inclination to evil is always lurking close at hand.
It is now commonplace to refer to racism as America's "original sin." While the analogy is not perfect, it seems that comparing it with the Christian doctrine of original sin can be very illuminating. Just like the goodness of created humanity is not totally compromised by original sin, we could say that the founding ideals are still good and set the country on a path of gradual progress. However, the nature of our country is wounded due to the lack of equal rights from the outset for so many fellow Americans. Through the work of abolitionists and civil rights leaders, much progress has been made. Our country can be healed and restored even though the devastating impacts of its original sin will always be lurking close at hand.
Let's do our part to work toward a "more perfect union."
Fr. Jeremy
Categories: Corpus Christi, reflection