UToledo Returns: COVID updates for Mass attendance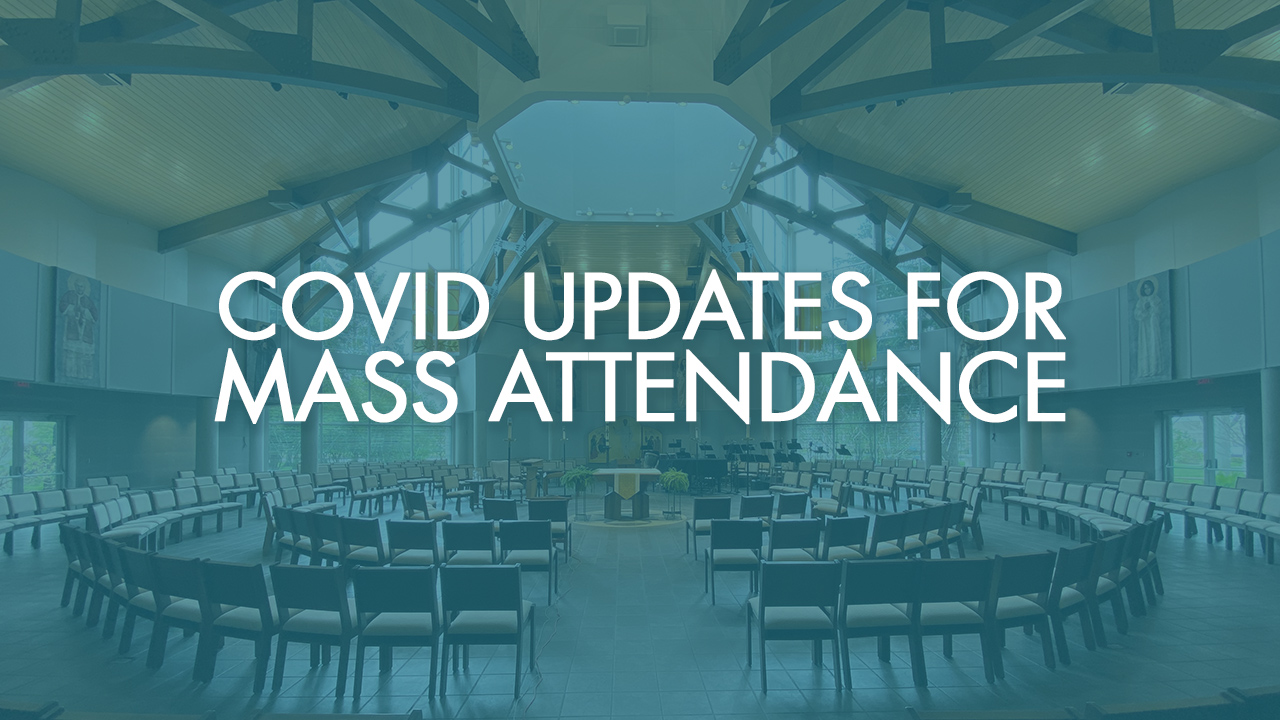 General Considerations
Attendance at weekend Mass continues to be optional.
If you are feeling sick or showing COVID-19 symptoms, please refrain from a ending Mass.
Live-stream of the 11 a.m. Mass will continue for those who remain at home.
We can mitigate risk but not eliminate it.
Before you arrive…
Mass Schedule for Fall Semester:

Saturday – 4:30 p.m. – No music
Sunday – 9:00 a.m. (Temporary Mass time during the pandemic); 11:00 a.m. & 6:00 p.m.

Daily Masses will be held in the main church – M,W,F at 12:05 p.m. and Tuesday at 8 p.m.
We are discontinuing the use of the paper sheets on chairs since our attendance numbers will continue to increase. With growing numbers, san zing all the chairs makes more sense going forward.
Masks/Face-Coverings are mandated at CCUP so long as the state mandate remains in effect or Lucas County
remains in the Level 3 warning zone. If someone is not wearing a mask, we should assume they meet one of
the medical exemptions.

Disposable masks will be available at Mass if you'd like one.

The Bulletin will be available when you enter church and will include the music for the day's Mass.
When you arrive…
Secure collection boxes are available near the baptismal font for all donations/weekly offerings. Collection baskets will not be passed during the Mass.

Opportunities for Digital Giving (through PayPal, Credit Card, and Venmo) are available on our website.

Singing arrangements – Ideally, we are trying to keep two chairs between individuals or groups that live together. If you want to ensure that two seat separation, feel free to leave a bulletin or other personal items on two chairs away from you. If you don't mind someone singing closer to you, less spacing is required.
During Mass…
No Offertory Presentation of Gifts. The Our Father will continue to be prayed without holding hands. The Sign of Peace will continue to be suspended. The distribution of the Precious Blood is suspended.
The Communion line will be single file based on section. Fr. Jeremy will announce instructions before Communion. Tape will be on the floor to ensure social distancing.
Communion will continue to be available at the East Door during the 11 a.m. Mass. For those who want to take advantage of this option. Please watch the live-stream from your car, then approach the side door during the singing of the "Lamb of God."
For those wishing to receive Communion on the tongue, please go to the priest's Communion line and wait until all others have received. If you do not wait until all others have gone through the line, please be aware that the priest will use sanitizer after distributing communion to you on the tongue.
When you leave…
Please try to stagger leaving after Mass to avoid congregating.
Congregating in the Gathering Space after Mass should be limited at this time. Please feel free to congregate in the parking lot according to social distance recommendations.

Recycling bins will be available in the gathering space to dispose of bulletins if you don't want to take them home.

At 6 p.m. Mass – for those not staying for the Student Dinner, it is recommended that you leave during the closing song to avoid a bottle-neck with students waiting in line for dinner.
Categories: Corpus Christi, Mass