Students
Corpus Christi has a vibrant student life, and provides numerous opportunities for students of all faith backgrounds to get involved in the community. For more information, please check out the resources below, or stop in an see us!
CSA (Catholic Student Association)
The Catholic Student Association is one of the largest co-ed student organizations on the campus of the University of Toledo. It serves as the Catholic student organization on campus, fostering spiritual, social, and academic growth through events such as organizing retreats for the UT community, planning religious events in conjunction with CCUP, providing service to the local community, arranging educational opportunities, and planning social activities.
Links:
CSA Website | Facebook Group | Facebook Page | Twitter | Instagram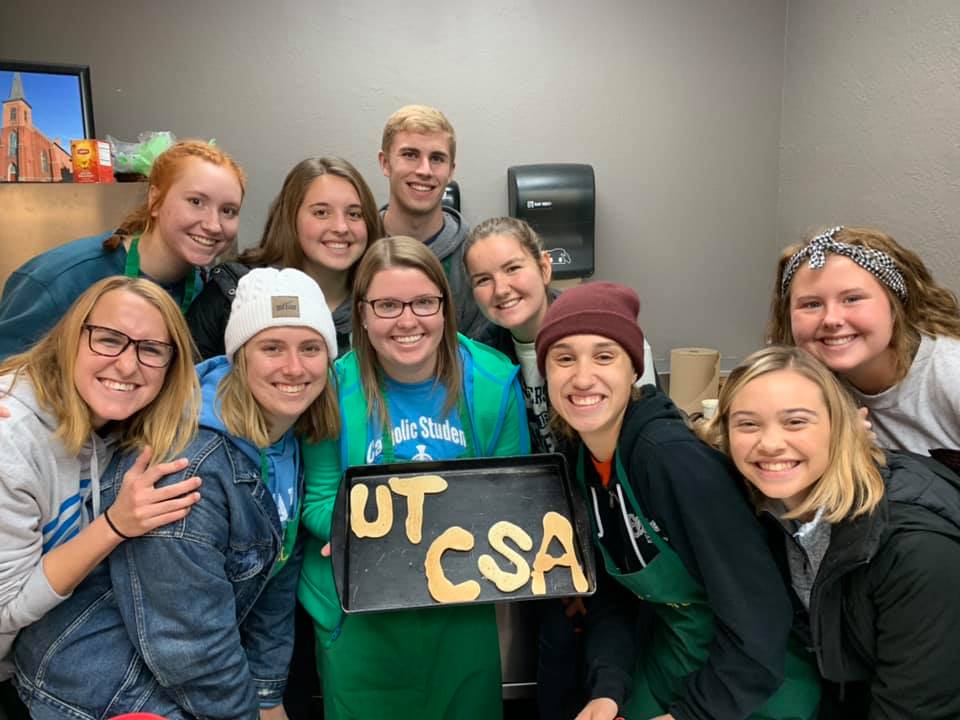 ---
Quarantine Spiritual Workout
During this time of increased health safety precautions to slow the spread of COVID-19, many students may be compelled to self-isolate for a 14-day period.  We developed a faith formation guide or "spiritual workout" for those self isolating.  This workout will help students grow in their faith all while remaining at home.  The first half of the workout focuses on foundations of faith and the second half is based on growth in virtue.
The workout uses the parish's FORMED and WOF Digital accounts.  WOF Digital has to be accessed through Flocknote. If you are NOT in the parish Flocknote database, feel free to contact Kim (kkunkle@ccup.org) to be added!
You can find the Quarantine Spiritual Workout here – *note, it operates through Google Docs.
---
Newman Club
Newman Club is open to all graduate students of the University of Toledo. The organization serves to foster a healthy Catholic spirituality, while recognizing the demands of graduate school. Masses, monthly dinner and discussions, an annual panel on medical ethics, retreats, and service opportunities are among the many things going on with Newman Club.  For more information, contact Father Jeremy Miller.
---
Christian Leadership Program
The Christian Leadership Program (CLP) is a four-year program that includes theological and spiritual formation and demands a serious commitment in order to fulfill the specific requirements. For more information contact Father Jeremy Miller, director of CLP, at 419-531-4992. CLP has been recognized by the United States Conference of Catholic Bishops for excellence in developing leaders for the future.
---
Christian Service Program
Corpus Christi University Parish, a community nourished by the Eucharist and committed to the works of charity and justice, carries out its mission to be a sign and instrument of God's reign in the world through the Christian Service Program that facilitates mutually enriching relationships between its members and persons in need, while seeking to humanize social structures. You can be part of this exciting outreach!
---
FOCUS Bible Studies
We are fortunate to have the Fellowship of Catholic University Students (FOCUS) at the University of Toledo and Corpus Christi University Parish.
FOCUS was founded in 1998 and invites college students into a growing relationship with Jesus Christ and His Church, inspiring and equipping them for a lifetime of Christ-centered evangelization, discipleship, and friendships in which they lead others to do the same. FOCUS missionaries are typically recent college graduates who devote two or more years of their post-collegiate lives to reach out to peers on campus.
The FOCUS missionaries serve as a vital part of our parish outreach to the University Student Community.  As a part of this outreach, they lead weekly student Bible studies in the Fall and Spring.  These studies are fun and dynamic and are ideal for people at all levels of faith.  If you are interested in getting plugged into a Bible study, contact the team director Branson at branson.schroeder@focus.org
---
Scholarships for UT Students
The deadline for applying is typically in April. Here are the scholarships available:
John Henry Newman Scholarship: Two $500.00 scholarships are available for CSA students.
Roger and Norma Weiher Scholarship: $500 for a UT senior who is a Catholic registered at Corpus Christi and has been accepted for graduate studies in any field. The major criteria are involvement in leadership roles on campus and community service.
Veterinary Scholarship: $ 1,000 for a UT senior registered at Corpus Christi University Parish who is accepted for graduate studies in a veterinary school.
Meka Baho Family Scholarship: Two $750.00 scholarships are available for a junior or senior pursuing a Bachelor degree in Engineering or in Health Care Sciences.