What is a University Parish?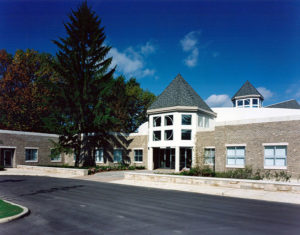 When a new student arrives to the University of Toledo and is searching for Catholic Campus Ministry, they may be surprised to find that UT doesn't have a traditional "Newman Center," but rather a "University Parish."  What does that even mean?  A University Parish is the best of both worlds – a parish AND a Newman Center.  Some Catholic Campus Ministries on university campuses are confined to a small building with limited chapels unequipped to house the vibrant sacramental life of students.  We are blessed at CCUP to have a full church space with established families from around the Toledo area.  There is a vibrant parish sacramental life with convenient weekend Mass times for students We also have an attached student space which operates like a Newman Center would; we call this space our "Newman Rooms."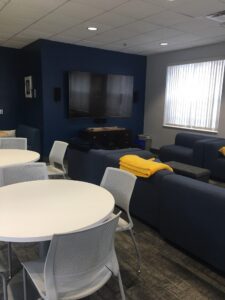 Newman Rooms
Open 24 hours a day, 7 days a week with a passcode* for all UT students.

Ask a current student, Fr. Jeremy or Hilary for the passcode.

Study in many cozy spots or at the study tables.
Watch TV or a movie on our large screen.
Find a snack or take a coffee break in the kitchen.
Play pool, ping pong and other games in the Basement.
History
Corpus Christi University Parish is the product of a long history of the Catholic presence at the University of Toledo. In 1932, Bishop Karl Alter appointed Fr. Ignatius Kelly as chaplain to the Catholic students attending UT. Despite some reservations, Bishop Alter allowed the Catholic students to form an official Newman Club in 1939.
Serving as chaplains were Fr. Charles Mooney S.J., and Donald Hunter, who managed to acquire two houses on Brookdale Road near campus that served as the center of Catholic ministry for thirty years. In 1970, Bishop John Donovan decided to establish a personal, non-territorial parish to serve the Catholic community at UT. He appointed Fr. Robert Kirtland as pastor and the parish voted to name itself Corpus Christi in 1976. In 1982 Bishop James Hoffman appointed Frs. James Bacik and Daniel Zak as co-pastors of CCUP. They worked together until 1994 when Fr. Bacik was named pastor. In June 2012 Fr. Bacik retired after 30 years of ministry at CCUP. The church building, thwarted for years by land acquisition problems, became a reality in 1998 when the current Corpus Christi facility across from the south entrance to the UT Main Campus was completed.
Our Patron Saint
St. John Henry Newman is the patron saint of campus ministry. Learn more about him here!
Origin of our Parish Name – Corpus Christi
The feast of Corpus Christi that we celebrate today is really the convergence of two separate events in the 13th century. Learn More
CCUP Blog
Keep an eye on our blog for parish news and updates!