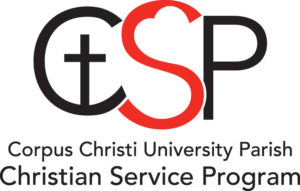 Mission Statement: Corpus Christi University Parish, a community nourished by the Eucharist and committed to the works of charity and justice, carries out its mission to be a sign and instrument of God's reign in the world through its Christian Service Program (CSP) that facilitates mutually enriching relationships between its members and persons in need, while seeking to humanize social structures.
You can be part of this program!
To volunteer with a local agency or find more information about our national and international trips, please contact the office at 419-531-4992 or email Hilary at hlemon@ccup.org.
The Christian Service Program currently offers students the following opportunities to get involved:
The Christian Service Program is divided into three areas:
1. Local
Corpus Christi participates in a number of different organizations to better the Toledo area. One of our goals is to involve students in semester long volunteer work. If you are interested in volunteering in Toledo, check out our master list of local agencies and organizations in need of your help: MasterList-ToledoServices-June2015 (PDF – 1.3 MB) or search through this website's organized list of locations: http://www.toledotogether.org/
Throughout the year, we will have a number of "Service Saturdays" where we serve with different agencies throughout Toledo.  Check the CSA calendar for dates, times and locations.  We usually meet at CCUP and carpool to the service location.
Biannually, Father Jeremy leads a local mission immersion trip called the Backyard Mission. Permanent Community and Students serve together around Toledo for a week during Winter Break.  Our next Backyard Mission is tentatively scheduled to be in January 2023!
Every year, our students prepare and serve a meal at the Tent City event Downtown benefiting Toledo's Military Veteran and Homeless populations. We are proud to be a part of this event under the direction of the non-profit 1Matters.
2. National
The Christian Service Program promotes national poverty immersion trips. Through our Alternative Spring Break Trips students have an opportunity to engage in the social mission of the Church within the United States. Since March 2018, students have traveled to Florida to build houses for Veterans with Habitat for Humanity. Visit the blog to read about on of the past trips.   A group of students also volunteers annually over spring break in Appalachia with the Christian Appalachia Project.
CSP also supports the work of Clean Water for the World by sponsoring and helping to host the annual Walk for Water 5k Run/Walk on the campus of the University of Toledo.  This event takes place on a Sunday afternoon every year.
Students also travel to Washington D.C. every year with the Diocese of Toledo to walk in the annual March for Life demonstration in support of Pro-Life legislation in our country.  More information on how to register for this trip can be found through the Office of Life and Justice at the Diocese of Toledo.
For students looking for national service opportunities, check out the Catholic Volunteer Network! They have a database of volunteer positions, discernment resources, urgent opportunities listings, a blog featuring stories from volunteers, and an events calendar.
3. International
CSP has been growing in overseas initiatives . So far we have sent students on mission trips to Kingston, Jamaica; El Salvador and San Pedro Sula, Honduras; the Philippines; Peru; Belize; and Albania. In May 2017, our students served the people of Guatemala with the organization Sew Hope. You can read about this mission trip on our blog.  Students can register and get more information about these trips from Bryan at byran.warday@focus.org.
To Make a DONATION to the Christian Service Program via PayPal, please click here.
Thank you for your generosity. This program would not be able to exist and grow without your support!
Feel free to contact Hilary Lemon, the Director of the Christian Service Program, with service related comments or questions at hlemon@ccup.org.