History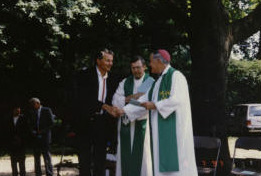 Corpus Christi University Parish is the product of a long history of the Catholic presence at the University of Toledo. In 1932, Bishop Karl Alter appointe Fr. Ignatius Kelly as chaplain to the Catholic students attending UT. Despite some reservations, Bishop Alter allowed the Catholic students to form an official Newman Club in 1939.
Serving as chaplains were Fr. Charles Mooney S.J., and Donald Hunter, who managed to acquire two houses on Brookdale Road near campus that served as the center of Catholic ministry for thirty years. In 1970, Bishop John Donovan decided to establish a personal, non-territorial parish to serve the Catholic community at UT. He appointed Fr. Robert Kirtland as pastor and the parish voted to name itself Corpus Christi in 1976. In 1982 Bishop James Hoffman appointed Frs. James Bacik and Daniel Zak as co-pastors of CCUP. They worked together until 1994 when Fr. Bacik was named pastor with Pam Meseroll serving as pastoral administrator. Early in their co-pastorate Bacik and Zak set two great goals: to establish a Chair of Catholic Studies at UT and to build a new facility for worship and student activities. The Chair developed gradually beginning with a series of visiting professors, including the internationally-recognized Oxford scholar Edward Yarnold, S.J. By 2001 it became the fully endowed Margaret and Thomas Murray and James J. Bacik Chair in Catholic Studies held by Dr. Richard Gaillardetz.
RELATED: Read about the Ground Blessing, held Sept. 7, 1997
The building project, thwarted for years by land acquisition problems, became a reality in 1998 when the current Corpus Christi facility across from the south entrance to the UT Main Campus was completed. The church, which won the Eugene Potente award for Church architecture in 1999, was a product of a great combined effort: the many listening sessions with students and faculty; the work of the building committee; the skills of the architects Bob Fessler and Paul Sullivan; and the creative suggestions of the liturgical designer Fr. Richard Vosko.
In 2001, CCUP was listed among the best parishes in the United States in the book Excellent Catholic Parishes by Paul Wilkes. This project, funded by the Lilly Foundation, recognized the parish for fostering a sense of community and for offering diverse religious education opportunities.
The Catholic Student Association, that serves as the parish connection to UT, has carried on the great traditions of the Newman Club and in 2002 and 2006 received an award as the outstanding student organization on campus.
In 2003 the Catholic Bishops of the United States gave a prestigious award to the parish-sponsored Christian Leadership Program (CLP), that gives twelve $5,000 scholarships each year to selected Catholic freshmen students attending. They participate in a four year program of theological education and leadership training. Many graduates of this program have gone on to get advanced degrees in religious studies or pastoral ministry.
The University of Toledo and the Medical University of Ohio merged in 2006. CCUP now serves both the Main Campus and the Health Science Campus where the Newman Club continues to sponsor retreats and other activities for graduate students.
In June 2012 Fr. Bacik retired after 30 years of ministry at CCUP. Msgr. Michael Billian was named pastor and Fr. Philip Smith was named the associate pastor. Both of them are also assigned to Blessed Sacrament Parish.
Throughout its history, CCUP has endeavored to serve the Catholic students as well as faculty and staff members of UT so they will do their part to help the University live up to its own highest ideals. Our official parish mission statement calls us "to be a sign and instrument of the presence of Christ at the University of Toledo. With reliance on God and guidance from the Catholic tradition, we strive to form a community of faith which promotes the spiritual, intellectual and moral development of all its members, so that together we can work for justice and peace and offer effective leadership in church and society."
As a personal, non-territorial parish, CCUP has benefited greatly from the support of the Toledo Diocese. We recognize our responsibility to be faithful to the large Catholic tradition and to help the diocesan Church carry out its mission, especially by preparing future leaders and providing adult religious education. We do this in various ways, including CLP and the lecture series we sponsor each semester of the academic year.
CCUP is located in Secor Gardens. Our goal is to be a good neighbor. One way we have done this is by providing tutoring for grade school children in the neighborhood with sessions both at CCUP and local schools. We support the larger community through various service activities such as helping to supply food to distribution centers.
More photos
Ground Blessing: Sept. 7, 1997
This new land for the parish was celebrated with a ground blessing that Sunday afternoon. Read more